You spend your holiday in one of the most beautiful island of the world. We are also here to assist you with everything that is not diving related.
You should take your time to explore the wonderfull countryside and culture of Bali.
We will assist you and have several fantastic tours and options for you to learn more about this amazing island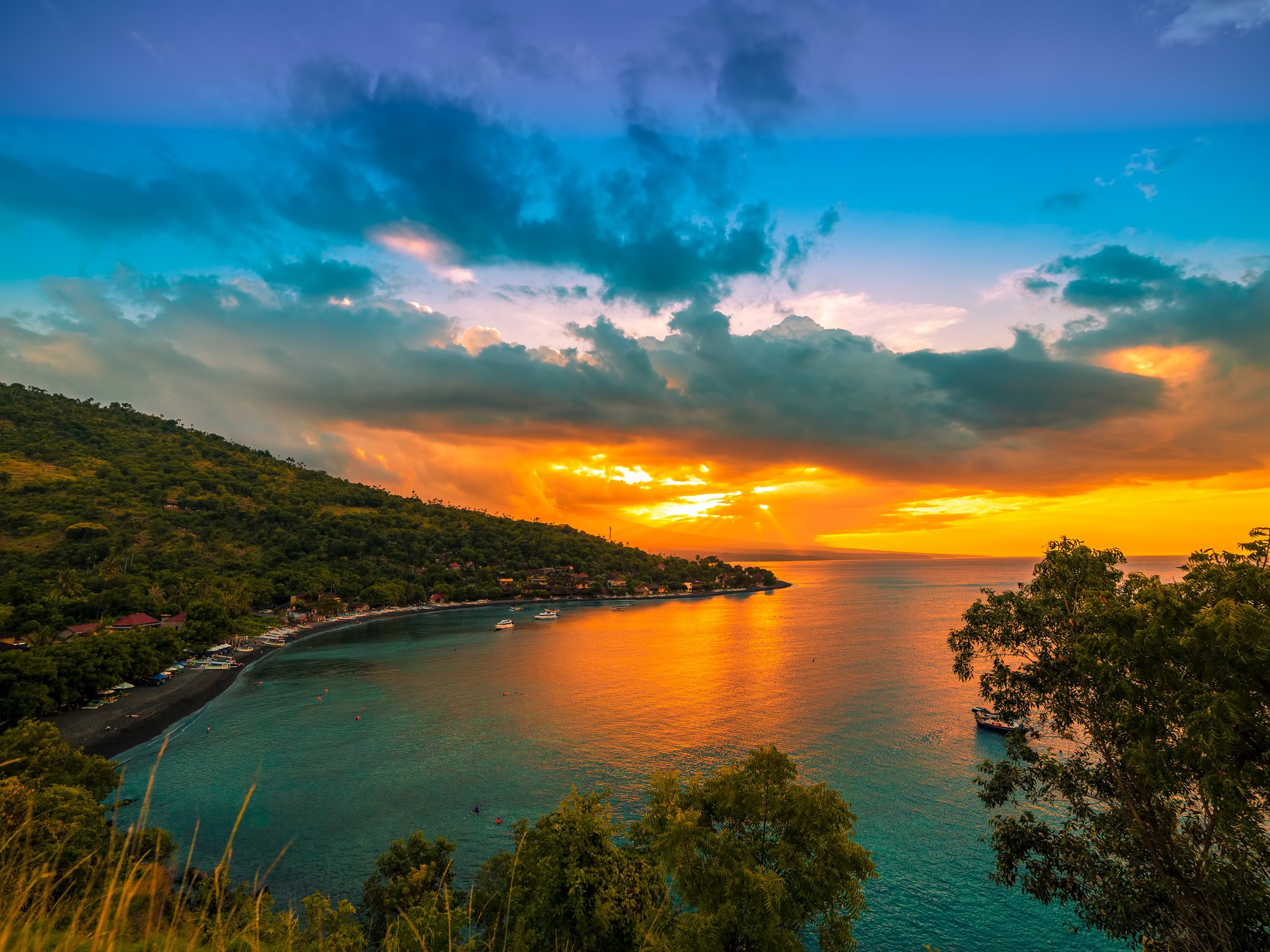 Amed region are 7  fishermen villages and compared to the rest of Bali, this villages keep their great atmosphere where the people live in harmony with the nature.
Far from everything but close to the nature, Amed is a little paradise where you can resource yourself.
This picture shows an sunset from the famous Sunset point in Amed. Go there, share the time with with locals and other tourists and enjoy a sundowner drink.
All around Bali you will find some stunning views on Rice fields because the Rice is the main food for locals.
Some of the most stunning rice fields are located very close to Amed in Abang village just a 15 minutes trip to visit these.
It will be a pleasure for us to organize a tour and show you around, meet local farmers and try local products on your trip.
Indonesians use many different words to speak about Rice, depending if the rice is cooked or not, how it has been cooked…
Bali is full of temples, Besakih Temple also called Mother Temple is one of the most important for Balinese people. That is close from Amed and if you wish to visit it we are happy to organize a tour for you.
Also just located on the mountains behind Amed is Pura Lempuyang. Its one of the 7 holiest Temples of Bali. The complex consists out of 7 different temples that are conected over stairs and the highest (and most holiest) one rest on the top at around 900 m above sea level in the clouds offering spectacular views.
Close to Amlapura just 25 minutes from Amed you can find the famous Waterpalace of Tirta Ganga. A beautiful place to relax, have a swimm in the cool water and submerge in balines culture.
Some villages in Bali still remain almost untouched, they are called Aga Village, where the people are living in communitys and every thing is done from the village. They sell handcrafts to the tourists and the benefits are shared between the people living there.
Tenangan which is close to mangis about one hour drive is a must see in Bali.
But also around Amed, in the hills behind the tourism area, people are living still a simple life. You can visit Tuba village where our owners have grown up and still a big part of the family is living. You might join a gamelan practice (traditional balinese orchestra). The Instruments are sponsored by our owners family and the teaching is free for the kids of the village. We do this to preserve the thousands of years old traditions of bali and to transfer the knowledge to the next generation.